Products
Our products are the perfect addition to any meal, party, or corporate event. All Five Star Brand wieners, sausages and frankfurters are expertly filled into natural casings and hand linked. They are also fully cooked and smoked. Our hams make the perfect corporate or holiday gift, please contact us for pricing.
An additional product overview can be found in our company brochure.
Smoked Ham Shank
Smoked Cottage Ham
Prasky
Braunschweiger
IMG_0958
Slovenian Sausage
DSC09408-2
German Franks
DSC09725
IMG_1835
Beef Wieners
Slovenian Sausage
Bratwurst
Beef Kielbasi
Irish Bangers
German Franks
Garlic Knockwurst
IMG_1808 (2)
IMG_1798 (5)
DSC09707
turkey hot 1
IMG_3438
Old World Delicacies
Smoked Cottage Ham
Natural Casing Braunschweiger
Leona Bologna
Spiced Ham Roll
Prasky
Smoked Ham Shanks
Roast Beef
Corned Beef
Canadian Bacon
Pepperoni
Grilling Favorites
Make grilling, a snap! All FIVE STAR Brand wieners, sausages and frankfurters are fully cooked. For quick and easy preparation, just heat and eat! Anytime, any season or any occasion, count on the FIVE STAR Brand to satisfy the hardiest appetites!
Traditional sausages in natural casings:
Pork & Beef Wieners (Old Fashioned)
German Franks
Bratwurst
Slovenian Sausage
Beef Kielbasi
Beef Wieners
Garlic Knockwurst
Irish Bangers
Lower Sodium Wieners
Turkey Kielbasa
Cleveland's Official OKT Paprika Bratwurst
Perfect for Barbequing, Picnicking or Tailgating
Available in 48 oz. & 32 oz. party packs and convenient 14 oz. packages!
Holiday Ham Assortment
Lower Sodium Virginia Ham
Semi Boneless Ham
Old Fashioned Ham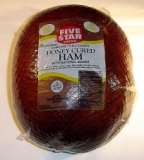 Honey Cured Ham
Bavarian Ham
FIVE STAR spiral sliced ham W glamour shot 2013
Five Star Spiral sliced Ham 2013 (2)
Honey Cured Ham
A Selection of Hams
Flavored Boneless Hams:
Honey Cured Ham
Bavarian Ham
Brown Sugar Ham
Golden Hickory Ham
Virginia Ham (lower sodium, no sugar added)
Bone-In SPIRAL Sliced Ham:
Flame-Glazed Ham
Un-Glazed Ham with glazing packet
*All FIVE STAR Brand hams are fully cooked and smoked!